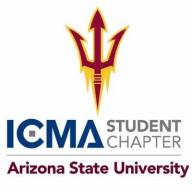 International City/County Management Association (ICMA) is the premier professional organization for local government professionals. ICMA seeks to create excellence in local governance by advocating for and developing professional local government management worldwide. The organization provides support in the form of publications, the Knowledge Network, webinars, and various other tools to innumerable persons interested in local government management.  The Arizona City/County Management Association is the local chapter of the ICMA.  Many School of Public Affairs alumni and faculty are members of ICMA and ACMA, and support the mission and activities of the Student Chapter.
Arizona State University's ICMA  (ASU-ICMA) Student Chapter was founded in the fall of 2012, and organized several events including tours of facilities in the Phoenix Metro Area, discussions with active and retired managers, and other learning opportunities. The chapter continues to grow in undergraduate and graduate student members, and seeks opportunities to connect student members with School of Public Affairs (SPA) alumni and local government representatives for informationaland networking opportunities throughout the academic year. 
---
Why get involved?
Undergraduate and graduate students are welcome to join the student chapter.  Benefits of FREE membership in ASU's ICMA student chapter include:
Access to local government professionals at different stages of their career to share experiences and help you land an intenrship, your first job, or your next promotion.
Over 5,000 online articles, case studies, reports, and sample local government documents.
Job ads in the biweekly ICMA Newsletter and on the JobCenter Web site.
Public Management magazine online.
Networking with your colleagues through the Who's Who online membership directory.
Access to the members-only online discussion groups. 
We strongly encourage you to take advantage of this opportunity available to few students throughout the country. To find out about and join the ASU-ICMA Student Chapter start here - https://eoss.asu.edu/clubs .  We look forward to hearing from you.
Leadership Team (2020 - 21)
ASU-ICMA President | Trey Nilles | MPA '21 
Serves as the leader of the organization and works with all other members of the elected board and ICMA and School of Public Affairs representatives, to execute programming, develop closer ties with the national ICMA organization, and to create professional partnerships with local governments and affiliated organizations within Arizona.
ASU-ICMA Vice President | Aneyssa Romo| MPA '21
Assists the President in directing the organization and works with other members of the elected board on special initiatives.  Represents ICMA student chapter on the SPA Alumni Advisory Committee and coordinates efforts to disseminate scholarships for participation in professional conferences and development activities with professional associations like ICMA and ACMA.
ICMA External Program Coordinator| Regan Jepson | MPA '21
rjepson@asu.edu
Assists the president and leadership team to draw speakers from outside the university to discuss different facets of government management.  Works with SPA Career Services Office to coordinate logistics of alumni-student engagement activities.

ICMA Internal Program Coordinator | Justa Daniela-Lopez | MPA '21
jdlope21@asu.edu
Works with SPA Career Services Office to plan chapter social events, networking mixers, career development workshops, webinars, and other special events.
Faculty Advisor | Thomas Holland | Instructor - School of Public Affairs

Maryjo Douglas Zunk is the Manager of the SPA Career Services Office and provides career-related support to the ICMA Student Chapter at ASU. She serves as the vital connection between faculty, alumni, and professionals in the field of public administration in the Phoenix Metro Area.  She can be reached at maryjo.zunk@asu.edu or (602) 496-0450.  
Scholarships
The ACMA Andrews Scholarship/Internship. This scholarship provides a full-time MPA student from Arizona universities a $2,000 scholarship and $6,000 paid summer internship with a city (population 50,000 or less) or a county (population 200,000 or less).  In addition, the recipient receives a complimentary one year membership with ACMA and funds to cover 2 days/1 night  attendance at the ACMA Winter Conference in Sedona.
The ACMA Esser Scholarship. This $2,000 scholarship is awarded to an MPA student working full-time in local government from the in-state universities.  The recipient will also receive funds to cover 2 days/1 night attendance at the ACMA Winter Conference in Sedona.
---
Pi Alpha Alpha
Eligible students are invited to become members of the Arizona State University chapter of Pi Alpha Alpha each spring. 
The purpose of Pi Alpha Alpha is to encourage and recognize outstanding scholarship and accomplishment in public affairs and administration. Its objectives, such as fostering integrity, professionalism, and effective performance, promote the advancement of quality in the education and practice of the art and science of public affairs and administration. PAA membership identifies those with the highest performance levels in educational programs preparing them for public service careers. 
Membership in the ASU chapter is restricted to those students who have met the eligibility requirements as follows:
Undergraduate students: 3.7 or higher GPA with at least 90 credits completed prior to current spring semester.
Graduate students: 3.8 or higher GPA with at least one half of their course work towards their degree completed.
If you meet the eligibility requirements listed above and have not received your invitation, contact the School of Public Affairs at 602-496-0450 or email spa@asu.edu. The $50.00 is a one-time entry fee required by national headquarters. There are no national or local chapter membership dues.