Marvin Andrews Fellowship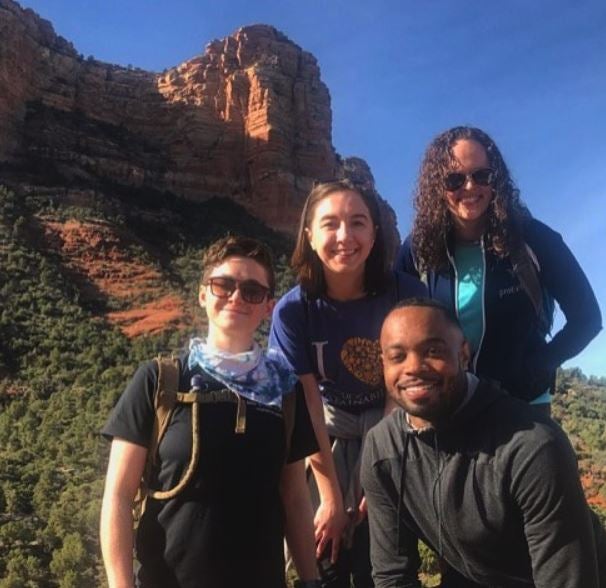 Travel
Marvin Andrews Fellows travel to conferences around the country. Read about the impact from 2017 Marvin, Dorian Sánchez.

Thank you for your interest in the Marvin Andrews Fellowship at ASU! The current application is now closed. Please feel free to check back in next Spring for the 2023 selection cycle! Good luck and go Sundevils!
Marvin Andrews Fellows (Marvins) receive the knowledge, training, and necessary experience to become future city/county managers in local government.
In their first year, Marvins enjoy the prestige associated with working part time (20-hours a week) as a paid management intern for ASU's Center for Urban Innovation. In this role, they have the opportunity to conduct research assistance for the Alliance for Innovation, the premier networking association for cities and counties committed to innovation and transforming local government.
In their second year, Marvins receive a paid 20-hour per week internship with one of the many progressive and fast-growing cities in the Phoenix metropolitan area.
Each student also receives a tuition waiver (in-state or out-of-state) for four fall/spring semesters (two years), an annual stipend totaling approximately $15,000 paid bi-weekly in accordance with your employment with the fellowship, health insurance, and financial support to assist with travel to annual conferences.
How to apply
Applicants to the Marvin Andrews Fellowship program are accepted once a year for admission to begin each Fall. Admission is fairly competitive. For example, for the 2019 cohort, 19 applications were received and four fellows were chosen. Applications are currently closed.
Requirements:
You must graduate with your Bachelor's degree (complete all required courses) by the Spring semester preceding the fall semester start of the fellowship.
You must be a newly admitted student into the MPA or MPP program to be considered for the Andrews Fellowship.
International students are not eligible to apply.
All applicants must first be admitted to the MPA or MPP program and then submit two documents to apply:
Marvin Andrews Fellowship Application Fall 2023 (the application goes live in the spring).
Two additional letters of recommendation (two were required for the MPA/MPP application). The additional letters should be from either an academic or professional reference that addresses the applicant's qualifying characteristics and applicant commitment to becoming a local government management professional.
Email both of these documents to Professor Cynthia Seelhammer, Marvin Andrews Fellowship Coordinator, at Cynthia.Seelhammer@asu.edu once the application opens. Questions? Email Professor Seelhammer.