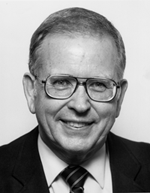 The Marvin Andrews Fellowship in Urban Management is named in honor of Marvin A. Andrews, who served for thirteen years as city manager of Phoenix, the largest council-manager government in the United States and a city considered by many to be the "best run" city in the United States. In 1983, Andrews helped usher in a new era in city government introducing the council district system and also pushed a new, heightened focus on neighborhoods. He was also praised for efficiently managing and providing cost-effective city services during the explosive growth years of the early 1980s. Even after he retired in 1990, Andrews remained highly active in city affairs, serving for more than 10 years on the Phoenix Aviation Advisory Board and as chairman of the Sky Harbor Master Plan Steering Committee, among other endeavors.
Andrews was named the best city manager in the United States in 1986 by City and State Magazine, received the National Civic League's "All-American City" award in 1979 and 1989, the International City Management Association's Mark Keane Award for Excellence in 1994, and the National Academy of Public Administration's National Public Service Award in 1990. Andrews passed away in July, 2004.  Phoenix recognized his contribution with the naming of "Marvin Andrews Way" at the Phoenix City Hall Complex.
In recognition of Marvin Andrews' public service career and his personal commitment to professional management, the Arizona City/County Management Association and the Arizona State University School of Public Affairs together with private sector contributors who valued well trained and professional public managers established an endowment in 2006 to support the next generation of public managers. The partnership was committed to including personal mentors from the profession to support the students, a first year internship to apply research methods and establish an awareness of trends in the profession, and a second year field internship with one of the communities in the Phoenix metropolitan area to be able to apply the knowledge from the academic environment to real life situations. 
When Andrews retired from Phoenix, the city gave him his desk from which he worked as city manager.  The passing of his wife Bobbi in 2018 resulted in the Andrews children Barbara O'Leary Nye and Bil Andrews contacting SPA to see if we had a place for his desk and some memorabilia from his career.  The alcove area in UCENT Suite 450 displays his desk and some of the many awards for future public leaders to enjoy and understand his contributions.
Support the Program
You can be a part of this commitment to future public management professionals by using our secure online form to make your contribution now.
In Memorium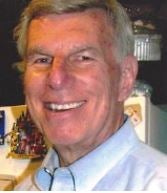 It is with a deep sense of personal loss that we acknowledge the passing of Dr. Martin Vanacour, founding faculty member for the Marvin Andrews Fellowship in the Arizona State University School of Public Affairs on Sunday, September 11, 2016.  Marty was a public servant committed to professional public management before joining the faculty at the School of Public Affairs.  He served the City of Glendale Arizona for over 30 years, including 15 as City Manager.  He was recognized by the Arizona City County Management Association (ACMA) for that commitment with the honor of Life Membership in the Association.  Marty had achieved his PhD from ASU while still working as a Manager, and used his new role of Professor and Associate Director to apply that knowledge and the wisdom of experience to develop a program committed to training future urban managers.  The Marvin Andrews Fellowship came about because of his presence and commitment in working with ACMA, the Alliance for Innovation, and ASU to partner in establishing this opportunity. 
The 21 fellows who graduated with MPA degrees under his guidance are exemplary samples of Marty's passion and commitment, and the Fellows who have been selected for the program since his retirement speak to the legacy of his efforts.  He lives on from that hard work and professional dedication to public service, which is deeply appreciated.