The Center for an Independent and Sustainable Democracy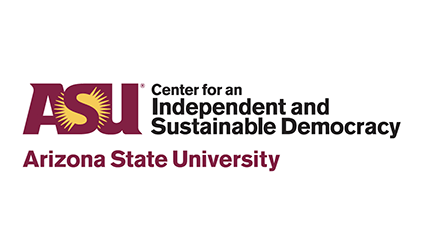 The Center for an Independent and Sustainable Democracy at Arizona State University aims to foster and support thoughtful, innovative research, policy briefs and forums around the state of American Democracy. The two-fold focus is on exploring nonpartisan reforms and redesigns of federal, state and local governance of electoral structures, and a deep dive examination of the independent voter.
CISD has recently released three important studies on nonpartisan governance and the independent voter: Election Administration In America – Partisan by Design ; Social Networks of Independents and Partisans: Are independents a moderating force and The Fluid Voter: Exploring independent voting patterns over time?
In the report, Election Administration In America – Partisan by Design, Open Primaries and the CISD reviewed the electoral codes of states with partisan voter registration systems. You might imagine that if you were to read through the electoral code of any particular state, you would find a dry recitation of rules for how elections should be conducted to ensure a fair and impartial outcome. You would be wrong. Rather, the electoral code of every state is rife with rules for how the two major parties-Republican and Democrat-prioritize their power at the exclusion of everyone else. Nonpartisan election administration is the norm in most western democracies.  This is not the case in America. The United States is the only democracy in the world that permits partisan contests for election officials. In other democracies, elections are run by independent commissions or governmental agencies shielded from political influence.
While scholars have long recognized that social networks impact political engagement for partisans, comparatively little work has examined the role of networks for independent voters. In the recently published article, Social Networks of Independents and Partisans, CISD contributes to existing research on social networks and politics by surveying Arizona registered voters about their political persuasion, personal networks, and media consumption habits. Our findings show that independents have networks that are structurally different from partisans. Specifically, we found that both Democrat and Republican respondents were more likely to frequently talk about politics with independents than with members of the opposing party. Independents were also less likely than partisans to end a friendship over a political dispute. Taken together these findings show that independents may be frequent and reliable discussion partners for partisans and may be able moderate political views. We find evidence for the moderating force of independents is especially apparent in the media consumption habits of Republican respondents. Follow the discussion on Twitter:  Altmetric – Social networks of independents and partisans: Are independents a moderating force?
In our recent research in the journal Politics and Policy, The Fluid Voter: Exploring Independent Voting Patterns Over Time, we analyzed American National Election Studies (ANES) data on political identification and voting choices from 1972 to 2020. Our findings show when tracking independent voting behavior over than more than one election, significant volatility in voting loyalty is observed. We also found evidence that a sizeable number of independents move in and out of independent status from one election to another, which we suspect is a function of the political offerings at any given time and the fact that many states disallow or restrict primary voting by independents. Our findings suggest that independent voters who identify in one political classification in one election are less likely to identify themselves in the same manner in the next election. Their identification depends on specific candidates or issues on the ballot, on the political circumstances of any given election cycle. This may well turn out to be a defining feature of being an independent: namely that individual candidates, issues, and the broader social environment , not party loyalty, drives their choices.
Use the Research tab for the complete list of cutting-edge research by CISD.
Upcoming Events
---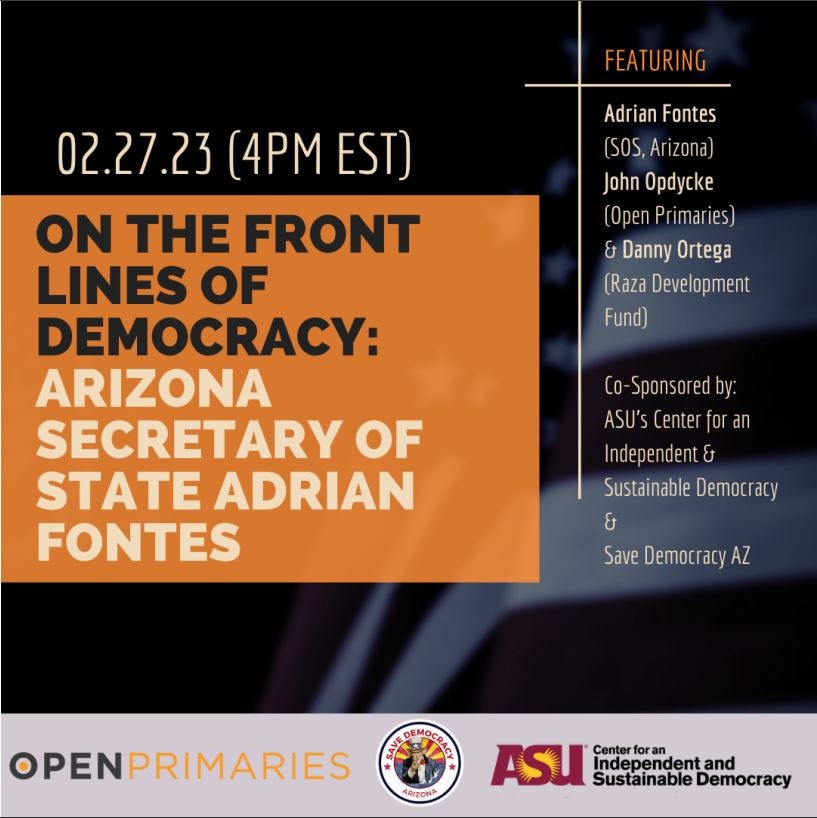 On The Front Lines of Democracy: Arizona Secretary of State Adrian Fontes
 CISD is excited to co-sponsor this event, hosted by Open Primaries, to hear from recently-elected Secretary of State Adrian Fontes. Register here to join the event via Zoom on February 27th.
---
The Independent Voter in American Politics
 Join Dr. Thom Reilly as he presents his new book, The Independent Voter, at the University of Nottingham, UK on March 29, 2023. This is a hybrid event, with participation in person or via an on-line platform. Register using this link!