Degree Programs
Set your sights on one of our highly-ranked academic programs
Minors & certificates
Students may pursue certificate programs along with a major, minor, other certificate program, or independently as a non-degree seeking student. For a full list of available minors and certificates offered by the Watts College of Public Service & Community Solutions, please visit the Watts College of Public Service minors & certificates page.
College-wide graduate programs
The MA in Emergency Management and Homeland Security degree blends concepts of public policy and management, criminal justice, science and technology to enhance and foster critical thinking. This degree transcends boundaries of traditional programs and emphasizes a systems approach. More specifically, an all hazards/all-threats orientation provides the student with a generalist perspective which is critically important for today's and tomorrow's disaster managers. 
The MS in Program Evaluation is a college-wide program in which all of the Schools in the College of Public Programs participate. The degree provides students with a solid grounding in the applied and conceptual tools of conducting program evaluations.  It is designed to provide graduate level instruction and experience in conducting evaluation research with training in a broad spectrum of evaluation research methods.  Upon graduation, students will be specialists in this area of research and their training will have broad applicability for public, private and nonprofit sector programs and policies.
The Master of Public Safety Leadership and Administration is offered by the College of Public Programs at the Downtown Phoenix campus. The degree prepares students with skills and knowledge to manage and assume positions of leadership in public safety organizations. This program is appropriate for those who hold an undergraduate degree in a variety of majors such as criminology, public safety and public administration and wish to supplement or update their skills and knowledge base. Several courses are available online.
Highly Ranked Graduate Programs
Source: US News & World Report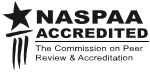 #10 Public Affairs school in the nation
#1 Emergency Management and Homeland Security
#3 Local Government Management
#5 Public Management and Leadership
#11 Environmental Policy and Management
#12 Public Finance and Budgeting
#20 Public Policy Analysis
#22 Social Policy